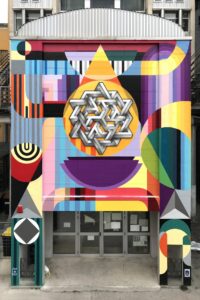 The main objective of Street Art for RIGHTS is to support the conception and creation of street art works by giving them the opportunity to occupy numerous spaces in the city of Rome. The project aims to bring some areas of the city, characterised by delicate social and territorial contexts, into contact with the contemporary creative reality, bringing the latter to the forefront of the artistic and performative offers promoted by the capital.

Alongside the concrete physical upgrading of the areas involved in the project, Street Art for RIGHTS promotes the dissemination of the culture of Sustainability through art. In fact, the neighbourhoods of the city of Rome chosen to host the new works of young street artists will be transformed into the physical ambassadors of the 17 Goals of the UN's Agenda 2030 for Sustainable Development, each one visualising the related themes of fundamental importance for the future of mankind.

Through a series of active engagement strategies including meetings with the artists, open debates, combined performances and photography exhibitions of the various stages of the project, the aim is to stimulate a sense of interest and care for the places first and foremost and for the general issues close to Sustainability that the territory itself presents.

Awakening consciences in the name of a sense of belonging to a shared culture that manifests itself in care and attention for a balanced development close to the needs of the ecosystem means concretely and responsibly becoming citizens of a world that has a future.

Sustainability and Territory

Street Art for RIGHTS wants to be a concrete project, the first step towards a good practice with a high degree of scalability that can be promoted again on the territory in new and updated forms; that can be capable of raising the discussion to a common intent; that can finally expand the limits of an event to the concept of a lasting and shared experience of one's own landscape.

All citizens must have the opportunity to choose a different way of living their reality within their territory and have the right and the duty to participate in the discussion on the pressing needs of contemporary times by contributing their own expectations, ideas and points of view to contribute to the transformation in which we want to be part of.

Street Art for RIGHTS aims to make the suburbs of Rome an open-air museum, but also and above all the ambassadors of a possible change.

The specific objectives
Reconnect the suburbs with the rest of the city.
Redevelop entire areas by means of strategies to enhance the urban fabric.
To realise cultural projects in the suburbs in synergy with the community, involving everyone: children, young people, adults.
Open dialogues between art and architecture, space and environment, citizens and territory.
Dedicate spaces to the creative expression of young street artists, out of illegality.
Spreading the culture of Sustainability through the visualisation of the 17 points of the UN 2030 Agenda.